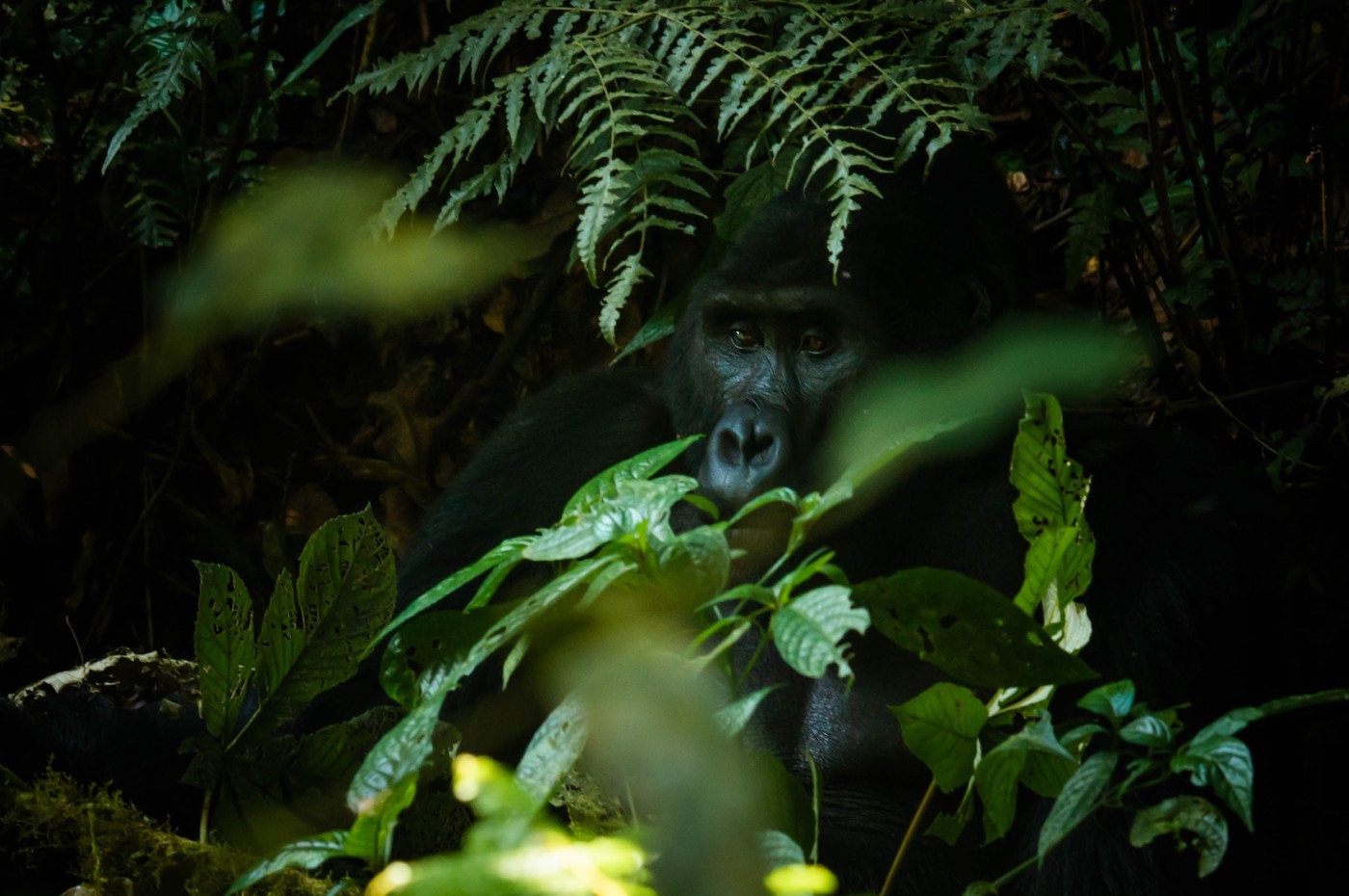 Gorilla safari – All you need to know
A gorilla safari is a once-in-a-lifetime experience that is sure to change your life forever. It can offer you an emotional, educational, and exciting experience whereby you get to track and follow one of Africa's most majestic animals. 
Journey's Intent offers you a personal and customizable experience that invites you to interact with these great apes, while also being guided by educated and passionate professionals. This unique experience is something that many nature and adventure enthusiasts long to tick off their bucket lists, and Journey's Intent can make that happen for you.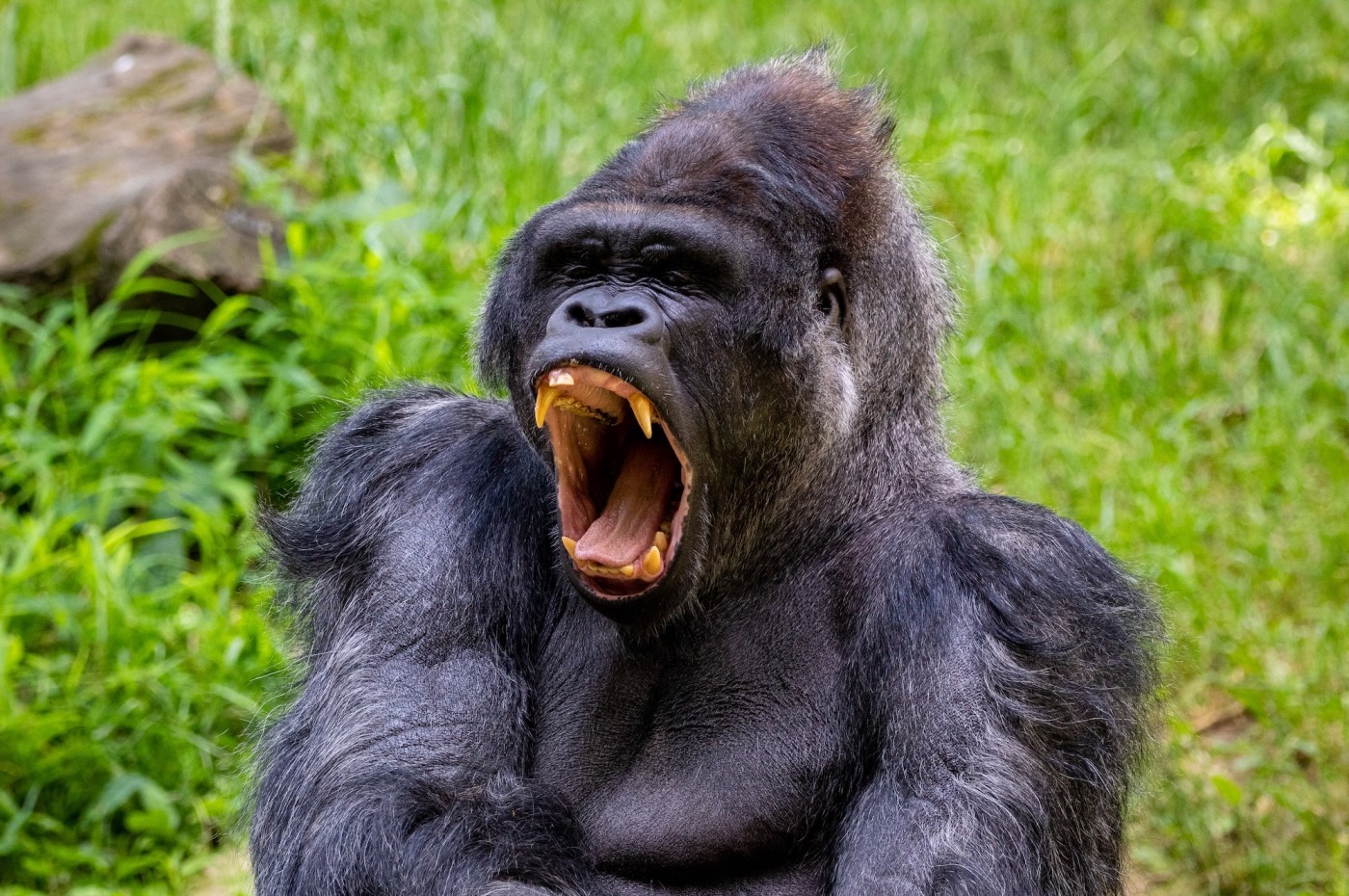 Why embark on a gorilla safari?
This journey is an experience that is sure to completely alter your world, offering you an interactive encounter with one of nature's greatest animals and the world's largest primate. 
Gorillas are incredibly intelligent mammals, showing off their communication skills by making a recorded 25 different sounds that can be used to communicate with other group members, teach survival skills to their young, and court potential partners. 
Gorillas also show empathy and compassion and have been known to mourn the loss of other group members, while also partaking in complex group dynamics that show off each individual personality. 
Although the number of mountain gorillas is slowly increasing and has recently exceeded 1000 individuals, mountain gorillas remain an endangered species and there is still a strong need for conservation efforts. 
One of these conservation efforts includes eco-tourism, which is done by visiting local attractions, as well as the gorilla parks so that tourism revenue contributes to the local economy. 
Your safari will be an emotional and life-changing event but will also help in the conservation of these marvelous creatures. The passionate, educated, and dedicated team at Journey's Intent can ensure that it will be one that you will never forget. 
Where can you go for your gorilla safari?
Adventurists and nature enthusiasts travel from all across the globe to embark on a gorilla trek so that they can have a one-on-one encounter with Africa's incomparable gorillas. 
Most of these encounters take place in Uganda or Rwanda, and while the Democratic Republic of Congo (DRC) is also home to gorillas, the political instability within the country makes embarking on a gorilla safari a challenging task, therefore Journey's Intent primarily focuses on expeditions to Uganda and Rwanda. Each country offers a unique tracking experience.
Uganda
A gorilla experience in Uganda is primarily located inside the picturesque Bwindi Impenetrable National Park, a personal favorite of David Attenborough. 
The Bwindi Impenetrable National Park covers a territory of 128 square miles and this densely forested region is home to 15 habituated gorilla groups, making Uganda home to over half of the worlds remaining population of mountain gorillas. 
Although some people may be discouraged by the timeous traveling to the park, Uganda makes up for this by boasting budget and luxury accommodation, a scenic and picturesque landscape with an array of wildlife, and of course, the opportunity to embark on a once in a lifetime gorilla safari. 
Although the potential 9-hour drive to Bwindi may be off-putting for some travellers, you can avoid this by catching a quick two-hour flight that lands you at Kihini airstrip, setting you up to begin your memorable journey. 
If you'd like to explore the local community and the surrounding terrain in Uganda, you also have the option to partake in the established safari circuit in Queen Elizabeth National Park and Kibale National Park whereby you will be able to view elephants, lions, leopards and buffalo, but unfortunately you will not be able to view rhino as they are not located in this region due to the terrain. 
You could partake in this big-four safari before or after completing your gorilla trek.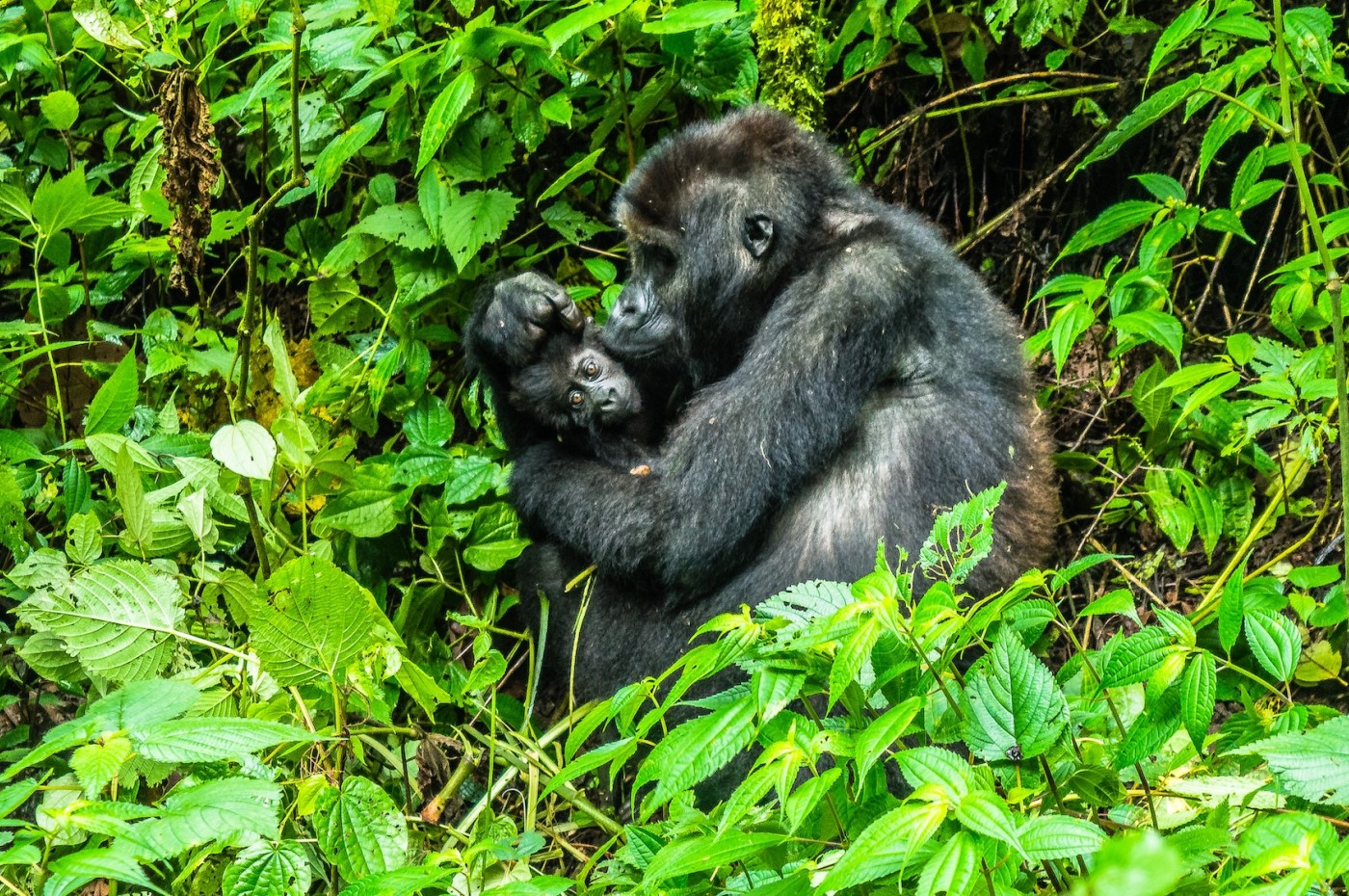 Rwanda 
Your gorilla experience in Rwanda will land you at the Volcanoes National Park, which is home to 10 groups of mountain gorillas and is covered by a 62-square-mile territory. 
Due to the fact that this area is much smaller than that of the Bwindi Impenetrable National Park, accessing these gorillas is easier in Rwanda than that of Uganda. 
Rwanda may also appeal more to you because of the high-end tourism strategy which includes a larger selection of accommodation that ranges from budget level to five-star accommodation, while Uganda hosts primarily budget to four-star accommodation. 
Rwanda offers an easy and hassle-free gorilla safari, however, it is significantly more expensive to embark on your gorilla safari in Rwanda than Uganda. 
Rwanda is also home to the Akagera National Park which contains both mountains and savanna, allowing you to view an array of wildlife including zebra, lions, elephants, and giraffes. 
The Akagera National Park may also be appealing because it is home to over 480 bird species, making it a haven for avid bird watchers.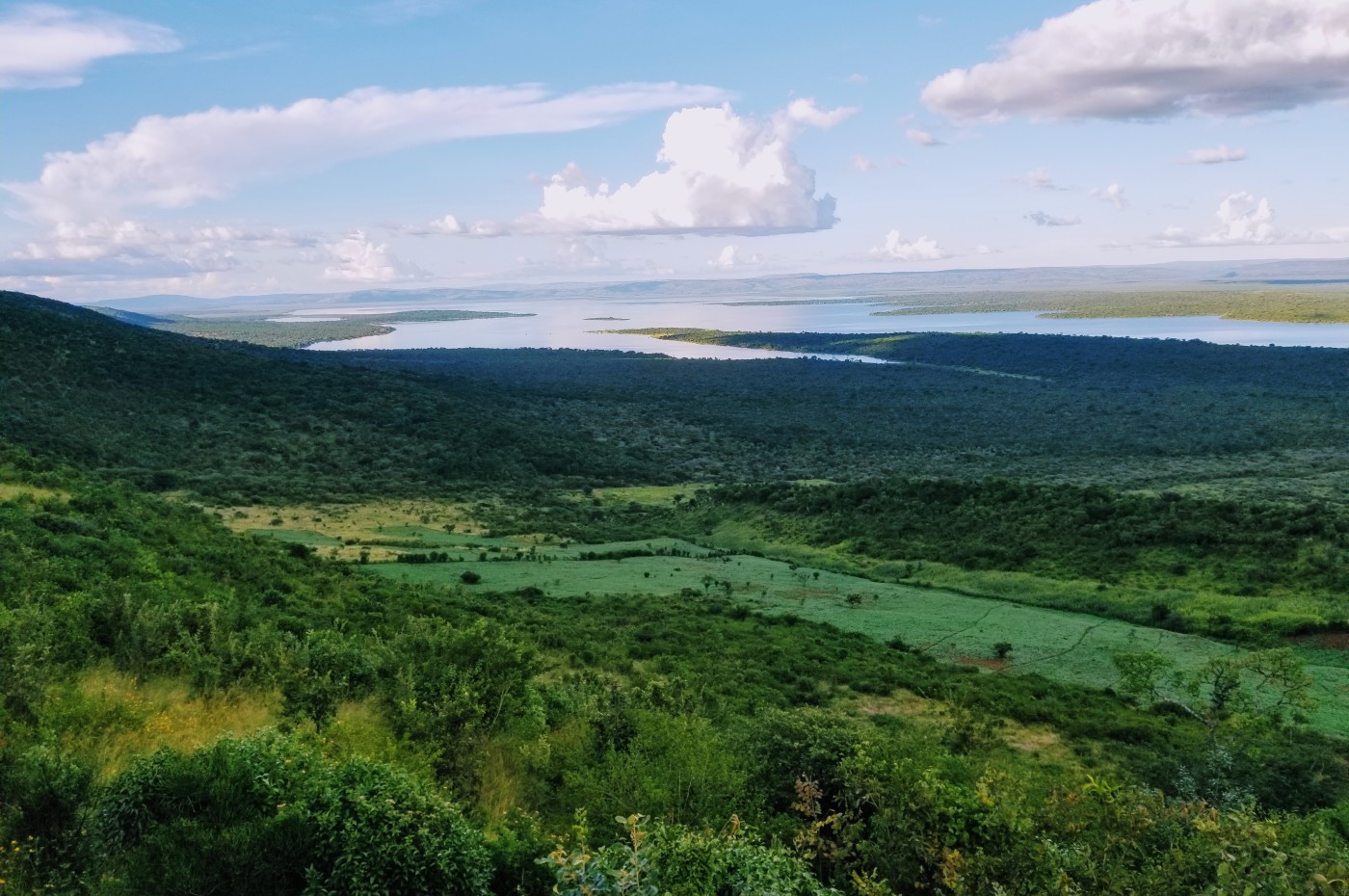 Deciding between Uganda and Rwanda for your gorilla safari
Overall, deciding between Uganda and Rwanda for your gorilla trek is your own personal decision and it depends on what your accommodation preferences are, travel preferences are and also what your budget is. While Uganda and Rwanda both offer unique and differing experiences, your experience is certain to be a fruitful and memorable one regardless of the destination. 
A gorilla journey in both Uganda and Rwanda offers you the same monumental hour whereby you get to interact with the gorillas, play with them, feed them and document them, the only significant difference between the two experiences is your accommodation and your travelling journey. 
Rwanda's smaller territory allows for easier access to the gorillas, but all of the accommodation lodges are outside of the park which means there will be travel involved to and from the park. 
Normally you will be driven to the briefing centre where they will receive a pre-track briefing and after this, you will be driven to the Volcanoes National Park. 
At the Volcanoes National Park you meet your respective wildlife rangers and will then embark on the hike to your designated gorilla group. 
A Ugandan gorilla experience differs from a Rwandan one because the accommodation standard of the lodges are either extremely close to Bwindi Impenetrable National Park or are inside the park itself.  
This means that your accommodation will be a short walk to the park headquarters, which is where you will receive your gorilla trek briefing. Your designated gorilla group may vary and depending on the location of the group, you will either hike to the group or you will embark on a short drive through the park followed by a hike to your designated group. 
A gorilla safari in Uganda involves significant travel time to get to the Bwindi Impenetrable National Park, but once you are there you feel as if your are only partially separated from the gorillas, sleeping in forest accommodation and trekking in the forest, offering a more authentic and raw experience. 
If you still want to embark on a gorilla safari, but want the comfort of luxury accommodation and have the finances for a pampering experience, then Rwanda would be best suited to you. The team at Journey's Intent can accommodate you in both locations and will ensure that your gorilla safari is one that exceeds all of your expectations.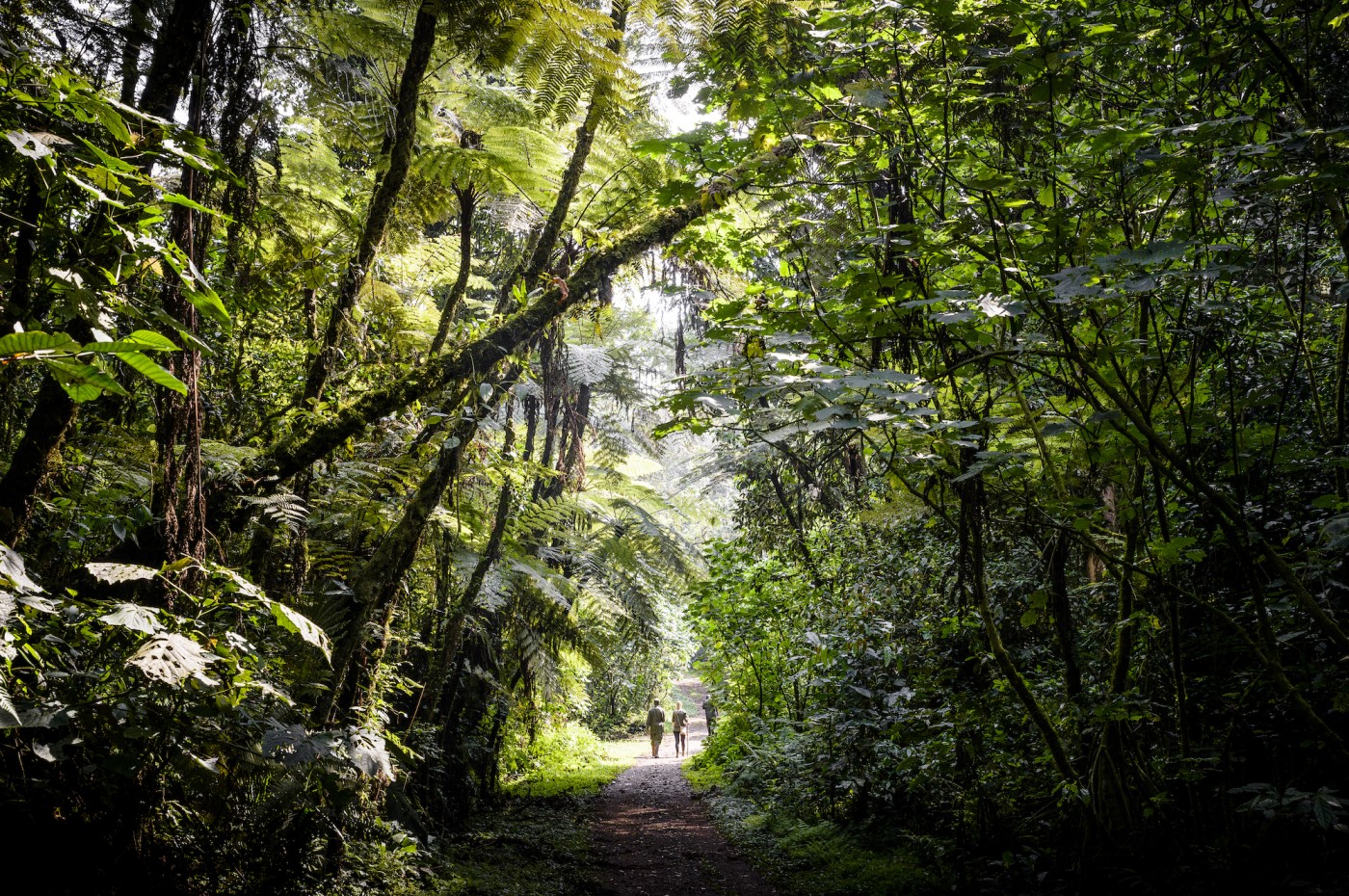 When is the best time to embark on your gorilla safari?
Once you have chosen between Uganda and Rwanda, the next step is to choose which time of the year you would like to embark on your journey. 
Both Uganda and Rwanda have similar climates, with average temperatures of around 72 degrees Fahrenheit, dropping to around 53 degrees Fahrenheit at night. 
Uganda has an annual rainfall level of roughly 40-80 inches, however, the region is known for its clear skies throughout the entire year, so you should be able to embark on your gorilla safari in both the high season and the low season. 
The high season offers less rainfall and more sunshine and allows you to complete your gorilla safari from June-August and December-February.  December is known to be the busiest season of the year, so if you would like to complete your gorilla safari in December be sure to book your safari and your accommodation in advance to ensure availability and reasonable pricing. 
The high and dry season also means that the forest will be slightly less damp which allows for an easier trek through the forest. 
Some tourists may prefer to visit the destinations during the low season because the price of tracking permits may be lowered and also because there will be relatively fewer people, offering a more personal experience. 
The low season does mean more rainfall, but the days are also filled with sunshine and gorilla treks are almost never cancelled due to bad weather. 
No matter what time of the year you choose to embark on this experience, it will undoubtedly be an extraordinary adventure.  
How much time do you need for your gorilla safari?
Your actual encounter with the gorillas will amount to one hour, the rest of the time that you dedicate to the rest of your safari will depend on your budget, your travel preferences, and also your accommodation preferences. 
Both destinations offer you a similar experience and Journey's Intent recommends that you set aside four days, irrespective of your chosen destination. 
We recommend that you plan for two tracking permits, with a permit being valid for only one track per day. 
Ultimately two days of your journey will be spent tracking your designated group of gorillas and two days will be spent traveling.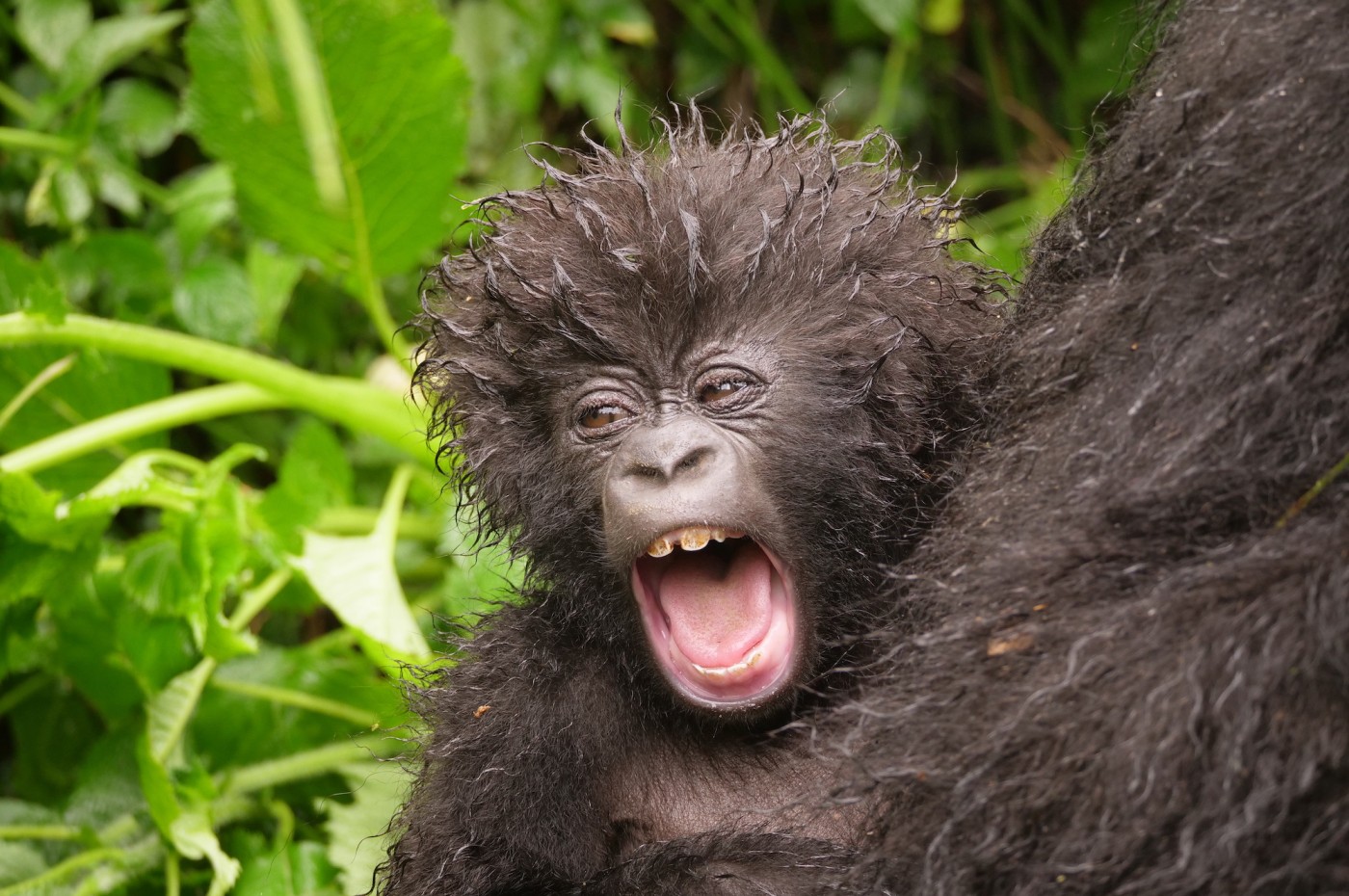 What is the cost of a tracking permit?
The cost of a tracking permit differs in Uganda and Rwanda. 
Uganda offers a budget-friendly option with a tracking permit costing US$600.00 per person per trek for the hour you spend with your designated gorilla group. The cost of Uganda's tracking permit will also stay the same in the high season and the low season.
Rwanda's tracking permits are significantly more expensive than Uganda, with a tracking permit costing you US$1500.00 per person per trek for the hour spent with your allocated gorilla group. 
It is important to note that for both destinations, you need to pre-book your tracking permits in advance as there are a limited and specified number of permits allocated on a daily basis. The team at Journey's Intent will assist you with this process and will ensure that your journey and experience is a hassle-free and enjoyable one.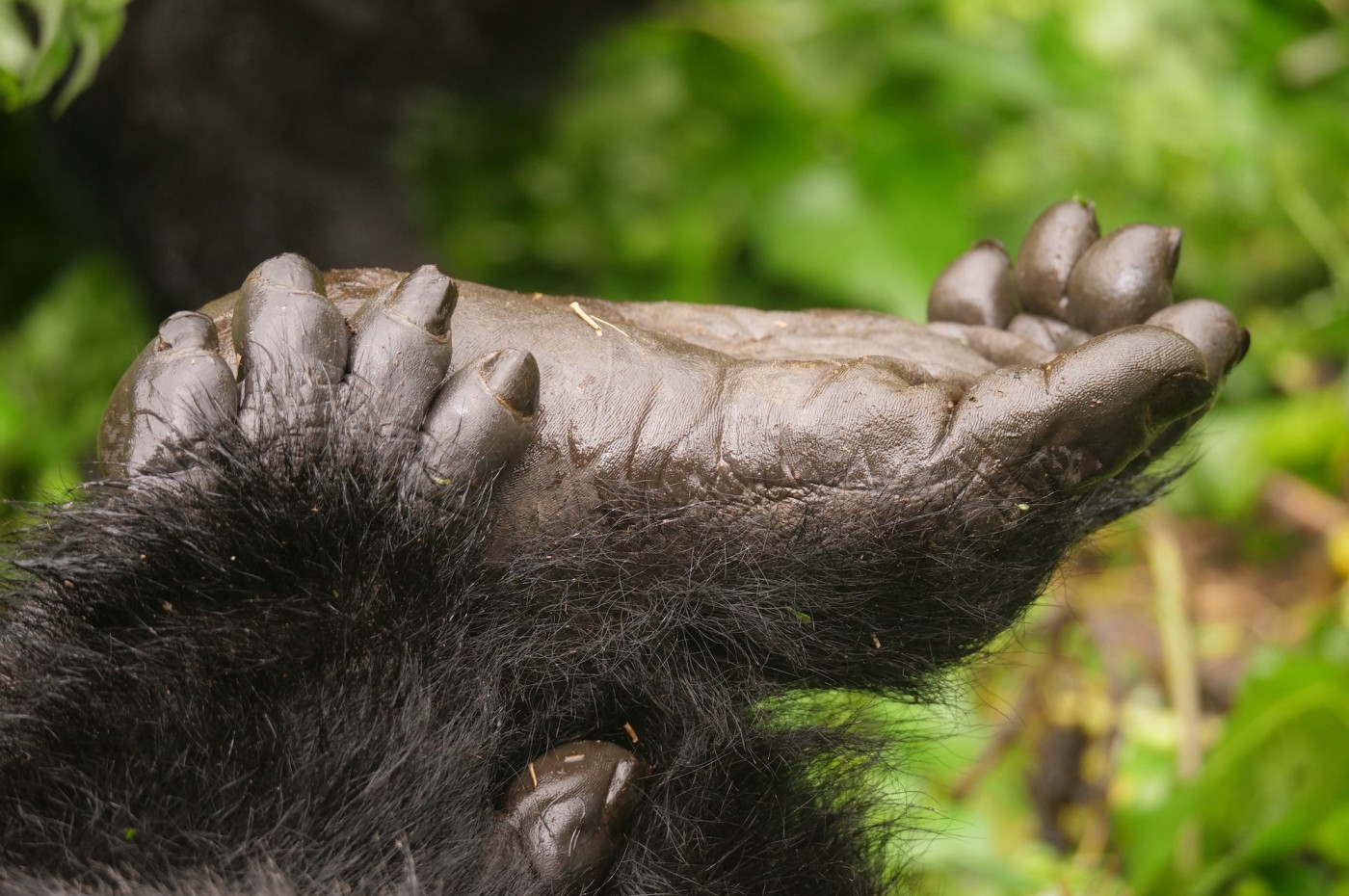 Is a gorilla safari safe?
Many people query the safety aspects of a gorilla trek, but we at Journey's Intent can assure you that safety will not be a concern as both Uganda and Rwanda are politically stable and therefore traveling in both countries will be a safe and monitored experience. 
Your actual hour spent with your designated gorilla group is also sure to be a safe experience. 
The gorillas in both locations have been habituated to humans and are used to seeing observers on a daily basis. 
It is important to remember that gorillas are wild animals that need to be respected, therefore the rangers that accompany you on your trek will monitor your safety at all times and will instruct you on the appropriate way to behave around the gorillas.